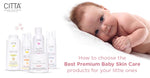 The coronavirus pandemic compelled us to redefine and rethink our priorities for personal care, including the care we provide for our loved ones and ourselves. The experience could have been even more enlightening for parents with young children. After the pandemic, parents of kids under 4 years old were more concerned with products that promised "natural" and "synthetic-free" ingredients.
Consider the below factors when choosing premium baby skincare products:
Natural Ingredients:
Young parents often focus on natural and non-toxic ingredients that are safe. While choosing premium baby skincare, they prefer checking the product label for transparency, along with sustainable and environmentally friendly procedures. CITTA specializes in creating premium baby skincare products with natural alternatives to synthetic ingredients. CITTA's safe and natural baby skincare range includes moisturizing baby balm, nourishing baby massage oil, talc-free baby powder, foaming baby shampoo, and foaming baby wash.
Our gentle foaming baby shampoo has natural nourishing oils and oats as natural alternatives to silicone and sulphates. Natural oils nourish, hydrate, and condition your baby's hair and scalp, while oats act as an anti-irritant. To avoid dripping, we have used a foaming pump on the bottle to create foam, which is convenient and makes bath time more joyful.
Safe and Gentle Formulas:
Natural ingredients also put parents' minds at ease in terms of safety. They want to understand the ingredients in the products they buy for their young children or babies. They look for products that are gentle and mild on their baby's skin. Purity and gentleness are synonymous with safety in baby care products.
The natural oils from Grandma's skincare regimen are CITTA's star ingredients. It is dermatologically tested and 100% grandma-approved. Within a year of its launch, CITTA has become a trusted name in the baby skincare market. Our 12-in-1 nourishing baby massage is India's first baby oil with 12 natural plant-based oils. It is a blend of Sunflower Oil, Coconut oil, Almond Oil, Castor Oil, Sesame Oil, Turmeric Oil, Basil Oil, Olive Oil, Camphor Oil, Ashwagandha Oil, Brahmi Oil, Cinnamon Oil and Natural Vitamin E. The goodness of natural oils provides deep nourishment to your baby's skin and fights dryness. The unique blend of natural oils strengthens your baby's bones, fortifies muscles, and promotes growth. It has anti-microbial and anti-inflammatory properties that help prevent rashes. Its safe and gentle formulation soothes your baby's skin and provides moisture barrier replenishment.
Skin Benefits and Protection:
A newborn's skin is delicate and sensitive. Baby skincare products can help treat skin issues while preventing irritation. Parents today focus more on the ingredients that treat babies' dry skin conditions or contain ingredients that are good for the skin. Aloe, olive oil, coconut oil, turmeric oil, and other natural ingredients are preferred in baby skincare regimens. Maintaining fragrance-free or allergen-free baby care products helps prevent common skin allergies like eczema and diaper rash.
Our unique formulation for babies and sensitive skin, CITTA's Moisturizing Baby Balm is India's first baby moisturizer with a thick texture and has zero water, unlike baby cream and lotion. It is a blend of shea butter, vitamin E and 7 natural oils (Coconut oil, Almond Oil, Turmeric Oil, Basil Oil, Olive Oil, Camphor Oil and Rice Bran Oil) that keeps your baby's skin nourished and provides a minimum of 7-8 hours moisturization. It has antibacterial and anti-inflammatory properties that help prevent rashes. Recommended and loved by Doctors, CITTA's Moisturizing Baby Balm is safe and effective, helps prevent dry skin conditions, and works wonders on sensitive skin.
Emotional Wellness and Connection:
Baby care provides parents with simple moments of joy and feelings, especially during trying times. There are several ways for new parents to bond well with the new-born. Just like oil massage strengthens the emotional bond and connection between baby and parents, bath time can also be playtime. Adding playful and joyful elements to baby care products can make them more interesting for both parents and babies.  CITTA's Tender Foaming Baby Wash and Foaming Baby Shampoo can make bath time more fun. The non-drying natural baby wash has the goodness of coconut powder extract, oats, rice protein, and aloe vera that cleanses, hydrates, nourishes and replenishes your baby's skin. Oats and aloe vera act as anti-irritants to help prevent dryness and skin irritation. With creative and convenient foaming technology, CITTA has made bath time more joyful so that you can spend more time and emotionally bond with your baby. As per research, parents of 0-4-year-olds showed interest in baby care products that promote emotional well-being.
Hygiene, immunity, and toxin-free:
Although babies rarely contract COVID-19, parental concerns understandably persist. Before COVID-19, protective benefits were already important in newborn care, but their significance has grown. Parents become more cautious after hearing about the detrimental effects of talc and other harsh chemicals. They are looking for products that are toxin and harsh chemical-free.
For example, specially designed for babies and loved by parents, CITTA's talc-free baby powder has safe and natural alternatives to talc, such as corn starch, oat kernel flour, and kaolin clay, that soothe your baby's skin and prevent rashes. CITTA's entire range is free of harsh chemicals and toxins like parabens, sulphates, silicones, mineral oils, and allergens.
CITTA's sole objective is to combine our country's traditional heritage with science while providing ease and convenience to every parent who needs to take care of their child.
Are you ready to lead these post-pandemic advances in the baby care and related personal care markets? Shake your hand with CITTA, a premium natural baby bath and skincare brand disrupting the market with its safe and mild product formulation.
To learn more about our products and formulations, log on to www.cittaworld.com or call us at +91 9156377002.
---
← Older Post Newer Post →