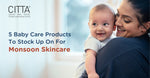 Table of contents:
Moisturizing Balm 

Baby Massage Oil 

Body Wash for Babies 

Baby Shampoo 

Talc-Free Baby Powder
Caring for a newborn or baby during the monsoon season brings up new challenges. A respite from the summer heat, monsoons are also a season of infections and allergies caused due to temperature changes and humidity — especially so for your little ones. 
Here are 5 baby care products that can help you care for your baby effectively through the seasonal changes:
Moisturizing Balm 
Your baby's skin is very different than yours. Their skin barrier function is not yet fully developed, and their skin is thinner than adults. It also loses moisture much faster, due to which it can become excessively dry. Because of these reasons, your baby's skin is also more prone to irritation and infections.
As such, it is essential to use a moisturizer that locks in moisture while also preventing rashes and other infections in the monsoon season. CITTA's Moisturizing Balm has a unique oil-based formula specially formulated for a baby's skin. It has a thicker texture than baby lotions and creams, which is more suitable for a baby's thin skin, and provides longer-lasting moisturization. 
This toxin-free and dermatologist-approved balm moisturizes, nourishes, and protects your baby's skin with the goodness of 8 Natural Oils, Shea Butter, and Vitamin E.
Baby Massage Oil
A good baby massage strengthens your baby's muscles and bones, promotes overall growth, and helps calm your baby down while improving skin health. 
Our Nourishing Baby Massage Oil is made with 12 natural oils, like Coconut, Ashwagandha, Almond, Brahmi, Turmeric, and Basil, to provide your baby with all-around nourishment and protection. With a non-sticky texture, the anti-microbial and anti-inflammatory oil is perfect for use in the humid rainy season as well. 
Body Wash for Babies
Babies and kids can pick up germs while playing. Sometimes, they might even come in contact with potential allergens, such as pollen. 
Since babies and kids do not have fully developed immune systems, it is crucial to maintain good hygiene to avoid infections and allergies.
Our Tender Foaming Baby Wash can help your little one do that. Enriched with Aloe Vera and Coconut Oil, it gently cleanses their skin without drying it off. Rice Protein also prevents skin irritation. 
The tear-free, toxin-free, and pH-balanced natural formula makes it the best body wash for newborns, babies, and kids, while the foaming technology also makes it easy to use.
Use it to wash your baby's hands or for a bath after a play session outdoors to keep germs at bay.
Baby Shampoo
Moisture in the air can lead to sticky and tangled hair in monsoons. To avoid this, wash your baby's scalp and hair with a gentle natural baby shampoo, like our Gentle Foaming Baby Shampoo, which makes your baby's hair soft, frizz-free, and tangle-free.
Our foaming baby shampoo is enriched with 3 natural oils to nourish and condition your baby's hair and scalp while cleansing it gently. These natural ingredients also soothe your baby's scalp and promote good hair growth. 
Like our body wash, our baby shampoo also has a tear-free, toxin-free, and pH-balanced natural formula that is safe and effective for your little one's delicate scalp and hair.
Talc-Free Baby Powder
Moisture can get trapped on your baby's skin, clogging pores and leading to rashes. Apart from clothing your baby in breathable natural fabrics, using talc-free baby powder can help to keep your baby's skin free of excess moisture and oil.
Our Soothing Talc-Free baby powder is made with safe natural ingredients — Corn Starch, Oat Kernel Flour, and Kaolin — to effectively absorb excess moisture and oil while preventing rashes on your little one's skin. It also has a fine texture that glides easily on your baby's skin, making it the safest and best baby powder for newborns, babies, and kids.
Your little one needs some extra care and nourishment during the monsoons. Stock up on these 5 babycare essentials to sail through the season without worry!
---
← Older Post Newer Post →