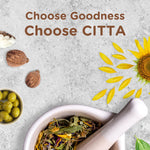 As parents, we only want the best for our baby. The best nutrition, the best care, the best home. But in day-to-day life, parenting can get extremely overwhelming. Taking small steps toward choosing goodness every day, for ourselves and our babies, can help you to regain control of the situation. We would like to help you choose the best for your baby.
When you become a parent, you focus religiously on your babies' nutrition, sleeping patterns, vaccination schedules, and keeping them out of any physical harm's way, and rightly so. But what can often get missed is your baby's skin health.
Babies have thinner, more delicate skin than adults. Their skin loses moisture at a much faster rate. Their skin barrier function is still developing, making it more vulnerable to dryness, skin infections, and allergens. Parents need to be aware of the best skincare products and practices for their baby to keep their skin healthy and protected.
New baby bath and skincare brands are continuously coming up in India, and it can be overwhelmingly difficult for a parent to make a good choice. Many brands claim to be natural and safe without backing up their claims. How can a parent choose the best for their baby in this situation? By choosing a baby bath and skincare brand that is trusted for its research-driven effective product formulations, adheres to the strictest international safety standards, and is recommended by doctors – by choosing CITTA.
CITTA is a premium natural Baby Bath and Skincare brand. It was created with the goal of backing the wisdom of Indian Dadi-Nanis with rigorous science and making it accessible to new-age parents. The word "CITTA" means consciousness, and the brand is conscious about its product formulations and ingredients. With CITTA, you can be assured that your baby is receiving the best and the safest skincare possible. All their products are made with the finest quality natural ingredients and free of any harsh chemicals like parabens, sulphates, silicones, mineral oils, toxins, and allergens. All the ingredients are listed on the product label, so parents can be sure of what exactly is going on in their baby's skin. The brand uses allergen-free fragrances certified by the International Fragrance Association and is cruelty-free as well.
CITTA's Baby Bath and Skincare range is designed to cover all the skincare needs of a baby and to be a wise companion to the parents through the changing seasons as well. The range includes :
Natural Moisturizing Baby Balm
Natural Moisturizing Baby Balm unique texture with zero water crafted with the goodness of 7 nourishing oils and Shea Butter, this baby balm provides long-lasting moisturization to your baby's skin and prevents rashes. The anti-microbial ingredients protect and heal the baby's skin as well. It is dermatologist-approved and recommended by doctors. You should grab this winter essential for your baby as soon as you can!
Nourishing Baby Massage Oil
The only non-sticky nourishing baby massage oil offers the goodness of 12 natural oils that nourishes and protects babies' skin while promoting growth and bone strength. It is anti-inflammatory, anti-allergen, and anti-microbial, making it suitable for use on sensitive skin as well.
Soothing Talc-Free Baby Powder
Baby Powder made with the best natural alternatives of talc, this silky-smooth baby powder is your safest bet. A unique blend of Corn Starch, Oat Kernel Flour, and Kaolin clay absorbs excess moisture and oil from your baby's skin while soothing it and keeping it fresh all day.
Natural Tender Foaming Baby Wash
Baby Wash Designed with babies' skin which loses moisture at a rapid rate, this no-drip foaming baby washes gently cleanses your baby's skin without drying it. It is infused with Aloe Vera, Coconut Powder Extract & Hydrolysed Rice Protein to hydrate, moisturize, and condition the baby's skin. This baby wash also contains an anti-irritant, making it dermatologist-approved for newborns and sensitive skin.
Gentle Foaming Baby Shampoo
This no-tear, fuss-free foaming shampoo is enriched with the goodness of Coconut oil, Almond oil, Olive oil & Oats to gently cleanse, hydrate, and moisturize your baby's scalp without making it dry.
Choose goodness. Choose CITTA.
---
← Older Post Newer Post →