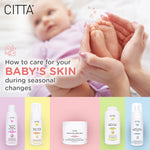 Seasonal changes can be really taxing on your health, especially your skin. The changes in the environment can trigger a host of skin infections and allergies. When it comes to newborn babies or toddlers' skin, you need to be extra careful during seasonal changes.
Babies are much more sensitive to the environment than adults. Their immune systems are developing, and they cannot effectively control their response to fluctuating weather changes. Baby skin, which is already sensitive, is highly vulnerable to the harsh effects of these seasonal changes as well. It is essential for parents and caregivers to understand how they can care for their baby's skin during seasonal changes so that they can experience the wonders of each season without worry. Read on to find out some common troubles and how you can alleviate them.
Eczema is a condition in which patches of skin become inflamed, itchy, cracked, and rough. Some types can also cause blisters. It is not entirely known what causes eczema in babies and kids, but genes are thought to be an important factor. Nevertheless, sudden changes in the temperature can flare up babies' eczema. When a baby has eczema, it means that their skin barrier function is not working properly. Hence, the baby's skin is drier and more prone to skin infections as well as allergens. Moisturizing your baby's skin regularly can help in preventing flare-ups. Choose a product with a mild fragrance and natural ingredients that will not cause any allergic reactions. Thicker alternatives to lotions or creams, such as CITTA's Moisturising Baby Balm are better for babies' sensitive skin. You should also make sure that you bathe your baby in lukewarm water rather than hot water so that the heat does not dry up the skin. In harsh seasons, such as winter, you should take extra precautions to keep the baby's skin moisturized before and after exposure to dry and cold winds.
Allergies are another bane of seasonal changes. As the season changes, so do the number of allergens in the air. Allergies are very rare in babies, but they can kick up once your baby is a 2-3yo toddler. Many kids are allergic to seasonal pollen, dust, and mold. The usual symptoms of pollen allergy or hay fever include an itchy and runny nose, watery eyes, and sneezing. One way to avoid these allergies is to limit your toddler's time outdoors. You can also ensure that the pollens are washed off their hands and body by bathing them with gentle cleansers, like CITTA's Natural Tender Foaming Baby Wash and CITTA's Gentle Foaming Baby Shampoo.
Prickly heat rash is a common skin condition that causes patches of tiny bumps on the chest, the back of the neck, across the scalp or forehead, in the skin's folds, or where clothing or a diaper fits more tightly. Excessive sweating can clog the pores of baby's skin and cause this rash. You should dress your baby in breathable fabrics with a comfortable fit and use a talc-free, safe powder on the areas that are prone to retaining maximum moisture on the baby's skin, such as the underarms, elbow creases, and the baby's bum. CITTA's Talc Free Baby Powder is your safest bet in this situation. Fortunately, the same product can help you with another seasonal skin infection–nappy rash–that can be aggravated by the increased heat and humidity in the monsoon season.
A massage with nourishing oils can go a long way in nurturing your bond with your baby while also improving the baby's muscle strength. This is one of the Dadi Nani Ke Nuskhe that you can incorporate into your busy schedule easily with CITTA's Natural Nourishing Baby Massage Oil which provides the goodness of 12 essential oils in one.
We hope that these tips can help you and your baby breeze through all the seasons without a single worry.
---
← Older Post Newer Post →